Wednesday, May 8 2002 8:00 PM

SF Alt Music Festival
21 Grand
449 B 23rd St.
Oakland CA 94612-3727
3 blocks from the 19th Street Bart Station



Marco Eneidi - Saxophone
Damon Smith - Double Bass
Donald Robinson - Drums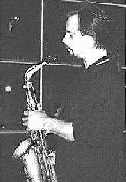 In his early twenties Marco left Livermore and the Bay Area where he grew up and arrived in New York, meeting Cecil Taylor and Bill Dixon who have been the major musical influences in his career. Marco studied and worked with Dixon while he was Artist in Residence at Bennington College, Vermont in 1984. During this period Marco played in the orchestra Dixon put together at Bennington and absorbed new elements of sound and space which were the deep preoccupations of his teacher's approach to orchestral music.

Marco's assocation with Cecil Taylor also began at this time. And here the concise, structural approach coming from the jazz cannon (blues, swing, and bop) had moved far beyond the traditional limits, but as Marco says, "It all comes from the blues." Since then he has been with groups that Cecil has lead in Europe and the U.S., as well as leading his own groups in the Bay Area.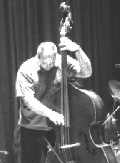 Born Damon Jesse Smith on oct. 17th, 1972, Spokane,WA. Did "freestyle bmx" bicycle riding (a much more dangerous forshadow to "freestyle" music!) from age 13 to 23. Started music in 1991, under the influence of Mike Watt (fIREHOSE & the minutemen) on fender bass. Lead several punk/art rock combos until 1994. Upon receiving Peter Kowald's landmark lp "Duos:Europa", left behind by a roomate who moved out, (the photo is a duet w/peter at college of marin), Damon sold the fender bass and concentrated solely on double bass and creative improvised music. Damon's music is rooted in the tradition of "free jazz", with most of his professional experience coming from work with the orchestras and small ensembles of master alto saxophonist Marco Eneidi,however, he is very interested in all the manifestations of free improvised music (jazz rooted or not!) around the world. his live and recorded efforts focus on continuing and expanding the possibilities of the double bass and "instant composition".He also collects recordings, specifically creative improvised music and double bass music, and finds this to be a very important part of his music, to be aware of the history of the double bass and creative music and to be aware of the contemporary state of both.


---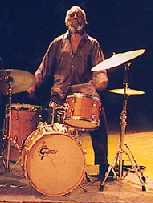 Documentary film on Free Jazz drummer Denis Charles, featuring Akira Ando, Billy Bang, John Blum, Borah Borgman, Thomas Borgmann, Roxane Butterfly, Rick Dellaratta, Bobby Few, Joel Forrester, Susie Ibarra, Steve Lacy, Frank Lowe, Zane Massey, Jemeel Moondoc, Wilber Morris, William Parker, Archie Shepp, and others.

Unknown to the mainstream, Denis A. Charles was a legend on the Avant-Garde Jazz scene where his drumming caught the attention of many innovative musicians like Thelonious Monk, Steve Lacy, Archie Shepp, Don Cherry, Sonny Rollins and many others.

The film includes performances shot during the last two years of his life, in venues across New York City interspersed with anecdotes told by Denis A. Charles himself, family members, friends and fellow musicians illustrate Denis's cling to music while waging a battle to simply survive.

Film maker Véronique Doumbé will be in attendance at this screening of her film.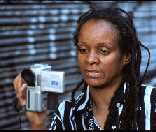 Véronique N. Doumbé has roots in Cameroon (Central Africa) and Martinique (West Indies). Born in France and raised in Cameroon, France and Ivory Coast, she studied Law at the University of Paris X, Nanterre in France where she obtained her "Licence en Droit" before moving to New York City in 1981. Véronique soon turned her attention to film and video. She produced, directed and edited several shorts. "Portrait of an artist: Ray Grist" aired on Manhattan Cable in 1982. "Carnaval Foyal", a look at the Carnival in Fort-de-France, Martinique was screened at the Caribbean Cultural Center in 1983.

Véronique N. Doumbé worked as a consultant in the Radio & Film Unit of United Nations Children Fund (UNICEF) from 1984 to 1985. Her third short, "Solar Cars" co-produced in 1986 by Sergei Franklin was aired on ABC "Good Morning America" and PBS "the 90's" . It was also screened at the 4th Environmental Film Festival in Birmingham, England. In 1987, Véronique worked as a free-lance editor for Film Video Arts (FVA) and Worldwide Television News (WTN) in New York City. "Denis A. Charles: An Interrupted Conversation" marks Véronique N. Doumbé's feature film debut.


---



Joe McPhee, saxophone
India Cooke, violin
Donald Robinson, drums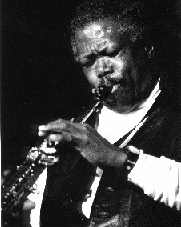 Joe McPhee is a brilliant improvising musician who plays many instruments, including saxophones, trumpet, valve trombone, clarinet, piano, and sometimes electronics. Joe McPhee's music can be heard on some 6O recordings, beginning with Clifford Thornton's "Freedom and Unity" (Third World 9636, '67), after which Joe began recording under his own name with "Underground Railroad" (CJR~1, '69), "Nation Time" (CJR~2, '7O), "Black Magic Man" (HatHUT SWZ~A, '71), "Trinity" (CJR~3, '71), "Survival Unit II at WBAI's Free Music Store" (HatART SWZ~6197, '71), and "Pieces of Light" (CJR~4, '74). The time of the early '7O's saw the beginnings of Joe's long and fruitful association with HatART, a Swiss company Werner Uehlinger formed with Joe as sole artistic inspiration and focus, specifically to record and distribute Joe's music; this resulted in 11 consecutive brilliant Joe McPhee recordings between 1975 and '82.

These days, Joe McPhee plays often in New York City clubs and concert halls, while he continues to blaze a global trajectory of festival appearances, tours, concert premieres, solo and group improvisations, workshops, and seminars, stretching from coast to coast and across several countries in any given calendar year, and leaving his unique brand of ecstatic disturbance everywhere along his path.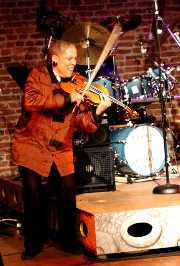 India Cooke, violinist, composer and educator, plays a wide range of music from classical to jazz, including avant garde, Latin fusion, new age, pop and gospel. Ms. Cooke has performed in San Francisco Bay Area symphony and opera orchestras, chamber ensembles, and Broadway shows, including the historic five year run of Andrew Lloyd Webbers Phantom of the Opera. As one of Californiaís most respected contract artists, she has performed as featured soloist with Joe Williams and the Louie Bellson Orchestra, and has played with Sarah Vaughn, Ray Charles, Frank Sinatra, Johnny Mathis, Stevie Wonder, Barry White, Diana Ross, Dionne Warwick, Patti La Belle, Gladys Knight and many others.

Her continuing jazz and improvisation experiences include performances with Pharoah Sanders, Sun Ra, Cecil Tayor, Pauline Oliveros and many others. As an educator, Ms. Cooke was an Artist-in Residence at the San Francisco School of the Arts, and currently teaches at the San Francisco Community Music Center, Mills College and at her private studio. She has conducted lecture/performances in Bay Area public schools, colleges, and other educational programs.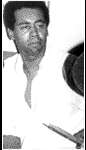 Donald Robinson is one of the most in-demand drummers in the Bay Area new music scene, playing in groups led by Marco Eneidi, Larry Ochs and others.








---
Thursday, May 9 2002 8:00 PM

SF Alt Music Festival
Luggage Store Gallery
1007 Market Street at 6th Street
(1 block from Powell Street BART)
San Francisco, California, 94103 USA



David Slusser - leader, saxophones, flute
Ralph Carney - saxophones, various winds
Richard Saunders - bass
Chris Ackerman - drums

Rubber City is the compositional vehicle for Dave Slusser's jazz inspired writings. As such, it is necessarily a format for improvisation, providing frameworks for both individual and group extemporizing. Over its decade plus existence, the rapport and experience of the players have grown so that the distinction between composition and group improvisation is hard to define, and finally, beside the point. What does matter, is that the music is focused, sincere, communicative and entertaining.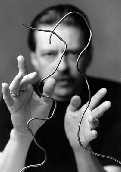 David Slusser was born in Akron, Ohio in 1952. He began playing tenor saxophone at age 10, around the same time he started experimenting with reel to reel tape recorders. Getting his first film sound job in 1975, he continued his career with a move to the San Francisco Bay area in 1977, where he joined Lucasfilm in 1984, and received an Emmy award for sound editing in 1993. He has worked often as a music editor for directors Francis Coppola, George Lucas and David Lynch, with whom he has co-composed music for his films. On his own he has composed for documentaries and public radio, as well as his jazz group Rubber City. His sound design is in the collections of both the Museum of Modern Art in New York and the Museum of Contempory Art in Los Angeles, though far more people have heard it in some of the more imaginative commercials on television.



---



Seth Misterka. saxophones, electronics, composition
Jennifer Deveau, bass
Edward Kasparek, Integrated Median and Multi-Instrumental

Dynasty is the latest project of critically acclaimed composer/instrumentalist Seth Misterka. Exploring the gray areas between composition and improvisation, jazz and rock, Dynasty¹s music stirs the imagination and challenges pre conceived notions of experimental music. The group has attracted a dedicated following in their native New York City through a series of concerts that incorporate electrifying music and mesmerizing performance effects (incorporating lighting, movement, and costume).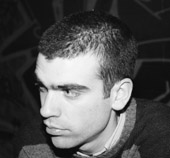 Seth Misterka (b. 1976) began playing saxophone and working with electronic music as a philosophy student at Wesleyan University (Middletown, CT). He aided the development of a vibrant creative music scene in Middletown through his activities as a perfomer, promoter, and record producer . He was a co-founder of The Middletown Creative Orchestra, the leader or co-leader of a number of smaller groups (including CCM4, The Middletown 3, and Scrapyard N), and the founder of Newsonic Records. In 1999, he moved to New York where he launched his solo career with the CD "MOH". He also began performing solo concerts as well as leading his own bands including Seth Misterka and the Misterka Clones, The Demon, and Dynasty . Currently, Misterka resides in his Brooklyn studio where he hosts recording sessions and concerts. Misterka is also a member of Anthony Braxton's Ghost Trance 10tet.


---



Wolfgang Fuchs, Saxophones
Jerome Bryerton, Drums
Damon Smith, Contrabass



Born in 1949 in a small town in Southern Germany, started to play mandoline and accoustic guitar in the age of nine, became soon after a member of the school orchestra, later a member of a widely acknowledged beat-group. From 1969 - 1974 he studied at the Academy of Music in Karlsruhe (saxophone, clarinet), where he made his first big band-experiences and met improvising musicians. Since 1974 resident of the City of Berlin.

Fuchs has recorded extensively and toured throughout Europe and the United States, playing and recording with Peter Kowald, Paul Lytton, Alexander von Schlippenbach, Fred van Hove, Cecil Taylor, David Moss, Evan Parker, Fred Frith, Paul Lovens, Barry Guy, Mats Gustafsson and many others.

In addition to performance and recording, Wolfgang Fuchs leads improvisation workshops around the world. This year, Fuchs will conduct a series of workshops in Oakland as part of the SF Alt Festival.

---
Friday, May 10 2002 8:00 PM

SF Alt Music Festival
21 Grand
449 B 23rd St.
Oakland CA 94612-3727
4 blocks from the 19th Street Bart Station



Jack Wright - Saxophone
Bob Marsh - Cello



Jack Wright, from Boulder Colo., is one of the more outrageous saxophonists and musical personalities of the continent. Continuously on tour, or organizing the next one, he has been called the Johnny Appleseed of free improvisation. To others, he is the scorned perpetrator of the "school of screech," even though at times he is practically inaudible. He plays alto, tenor, and soprano saxes, piano, and now pretends to play the unwieldy contralto clarinet.

For twenty years he has been doing this kind of music exclusively, and his audiences can still be counted on a couple of hands. Which is either a credit to his "refusal to compromise" or an indication that he is a fool. He considers himself as much a beginner as when he started the saxophone, back in the dark ages of the early fifties. He plays with everyone who asks, and currently visits and explores sound with over forty partners around the country. He records, yes, but the place where he learns what music can do is mainly in live performance. For him, "free music" is a verb, not a noun.

Despite his lack of the basic ingredients of fame, the Washington Post, April 2001, saw fit to crown him: "In the rarefied, underground world of experimental free improvisation, saxophonist Jack Wright is king."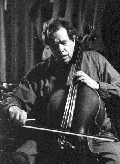 Bob Marsh performs regularly on violin, cello, piano, vibraphone, flute, and uses extended vocal techniques.

He is the leader of the Emergency String Quartet, the Robot Martians, the Illuminated Orchestra, Opera viva; co-leader of Lucha de Leche with Ernesto Diaz-Infante and member of Aaron Bennett's Nonet and Jim Ryan's Left Coast Improv Group.

Current musical projects include : Gene Coleman's "Ensemble Noamnesia", Fred Lomberg-Holm's "Phenomenal String Quartet", Marc Perlish's "Stray Quartet", duo with Blaise Siwula in "(a+b) squared", founder/director "Quintessentials"



---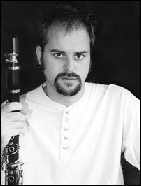 The sfSound Group performers:

David Bithell [trumpet]
Jorge Boehringer [viola]
Chris Froh [marimba]
Matt Ingalls [clarinet]
John Ingle [saxophone]
John Shiurba [guitar]
Matthew Sperry [bass]
Tom Yoder [trombone]

Program:

GYÖRGY LIGETI's "10 pieces for woodwind quintet" [ 4/5 Remix ]
JOHN CAGE's "five"
John Shiurba's "5x5"
and a new collaborative composition by the group.

Founded in 2001, the sfSound group is a contemporary music ensemble in the san francisco bay area consisting of some the bay area's finest composer-performers. the group is dedicated to the exploration of musical possibilities lying somewhere among the complexities of the traditionally composed, radically improvised, noisily sonificated, and collectively realized.

What is 21st century music? perhaps it is a shift away from the composer->score->performer paradigm. We are musicians who simply want to get new music that we create and admire performed. We think there may be more practical ways to get this music realized than by using traditional notation, taking advantage of performers, or commissioning ivy-league-cum-rocker-composers. The new century is here.



---



Bonnie Barnett, vocals
Richard Wood, alto sax & flute
Phillip Greenlief, soprano sax
Beth Custer, bass clarinet & vocals
Richard Saunders, bass
Spirit, drums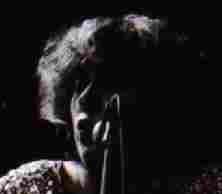 BONNIE BARNETT, American singer and composer, b. Chicago, IL, May 2, 1947. She studied at the University of Illinois (B.S. Music Education, 1968) and with Kenneth Gaburo, Pauline Oliveros and Robert Erickson at the University of California, San Diego (M.A. Music, 1972), focusing on vocal multiphonics and ethnic sources thereof; then moved to San Francisco, where she developed the TUNNEL HUM PROJECT, a series of participatory vocal events taking place in acoustically interesting environments.

Since 1986 Barnett has lived in Los Angeles, working in the area of free jazz improvisation and has toured in the U.S. and Europe with various performers, including Hermann Buhler, Nels Cline, Kenny Wollesen, and Billy Mintz.

In addition to the unique features of extended vocal techniques, "faux text" and shamanistic statement, Barnett focuses on spontaneously creating structures within the context of improvisation. Here's what reviewers have to say:

JAZZ TIMES: "Cassandra Wilson on acid"

CADENCE: "Bonnie Barnett takes poignant texts, puts them to emotionally drenched music, and speaks or sings the lyrics with clenched teethy, creating stark, gut-wrenching paeans of unmitigated disturbing clarity"

ALL MUSIC GUIDE: "Not your everyday improvising singer, Barnett approaches territory exclusively tread by Diamanda Galas, sans the Satanic verses."

---
Saturday, May 11 2002 2:30 PM

SF Alt Music Festival
21 Grand
449 B 23rd St.
Oakland CA 94612-3727
4 blocks from the 19th Street Bart Station



Tom Nunn/Doug Carroll



Twine explores the intimacy and intensity of one-on-one free improvisation with Doug Carroll, electric cello and Tom Nunn, electroacoustic percussive boards. These veteran free improvisers have played together for over a decade. Interaction is the basis of this duo, while sound itself is the foundation of free improvisation. By utilizing experimental instruments and extended techniques, Twine creates a unique kaleidoscope world of sound with a vast range of style and sonority.

Their spontaneous compositions and re sculpted over time generating musical imagery taking the listener on a journey of his or her own imagination to explore personal meaning in the music.

Twine is a very special practice consisting of weekly recording sessions in which a CD is recorded directly, without editing or retakes and made available to the public (reminiscent of the earliest days of recording). While the instruments are amplified, no electronic effects are used (beyond a subtle use of room reverb). And virtually all the music is freely improvised; there are no scores or plans; there is simply an instant rapport. Though this practice,
Twine demonstrates a fundamental commitment to the
momentary nature of free improvisation.


---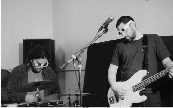 Compomicro-Dexall likens their performances to rolling down a mountain in a barrel with the apprehension of the start and the eventuality of the stop and a no-turning-back guarantee that necessitates flashes of crucial life-or-death split-second decision-making. The path down the mountain is set and rehearsed, but the mountain itself is jagged and unpredictable and the ride down is tumultuous, and as the path is touched upon here and there, the downward trajectory is full of speed bumps and unexpected turns and crags of unexplored bounce, and as the barrel comes rolling
to a standstill or smashing to a halt, it is often found that the path was hardly touched upon at all, but that practice and acknowledgement of the path is the means by which we can survive the trip.

Mike Guarino (drums/guitar) and Jake Rodriquez(bass/singer/synth) have been exploring this method of purge in various Bay Area locales since 1995. They have been and are sometimes joined in the trio format by guitarist Moe!Staiano, guitarist John Dietrich, clarinet player Chris Broderick, and bass player Jeremy Stone. Compomicro-Dexall has several CD releases on Chitah! Chitah! Soundcrack, including a new 2002 release Schism Portions.


---



Alwyn Quebido, guitar
Jesse Quattro, voice
Tyler Cox, drums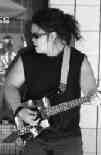 Saint of Killers is a post-metal wave of semi-improvised darkness. A trio that has been together for just under a year, Saint of Killers' primary objective is to leave listeners with the sensation that life is not all it's made out to be, that beauty and happiness can only be found once one can actually acknowledge the ultimate truth of the ugliness and horrors that is human nature, and basically to just piss people off; the audience either gets it, or is absolutely repulsed by it. Tyler Cox (also of San Francisco proto-progressive punk outfit The Mass) lays down the crushing and free foundation of uncompromisingly voluminous percussion. Alwyn Quebido flanks the attack with a focused laser of unfocused aural mayhem on the guitar. Jesse Quattro rounds out the core with her stunning array of melodic/cacophony vocal sheets of sound. They have also performed with the occasional guest(s): Rent Romus, David Slusser, Matt Waters of The Mass, to name a few. Saint of Killers, who sites Fantomas, Nels Cline, Meshuggah, John Coltrane, Frank Zappa, Diamanda Galas, and John Zorn as major influences, are constantly searching for new ways of expressing the sonic truth to themselves while never swaying from the sound that brought them together in the first place, which is searing, abrasive, obnoxious, and terrifying free metal destructo jazz.

---
Saturday, May 11 2002 8:00 PM
SF Alt Music Festival
21 Grand
449 B 23rd St.
Oakland CA 94612-3727
4 blocks from the 19th Street Bart Station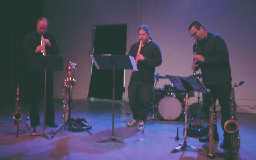 Phillip Greenlief - Saxophones
Jon Raskin - Saxophones
Philip Gelb - Sakuhachi

The Wind Trio of Alphaville (WToA) was founded in 2000 by ROVA Saxophone Quartet founding member Jon Raskin, Shakuhachi Virtuoso Philip Gelb and Evander Music Founder Phillip Greenlief. The group gets their name from the 1965 Jean-Luc Goddard film about an imaginary totalitarian state (Alphaville) that is run by a computer - a city where art and truth have been outlawed, but is eventually overthrown by detective Lemmie Caution, who mutters at the film's close, "I will fight so that failure is possible". Bringing many of the film's ideas to their own musical arena, these three highly-talented composers and improvisers overthrow our current state of musical technocracy and creative anemia with brave statements of imagination, in addition to sporting a unique lineup of wind instruments that include a wide range of saxophones, Bb clarinet, flute, wood flute and shakuhachi.

The WToA has recently expanded its penchant for improvising to include ROVA's "Radar Games", and new compositions by Greenlief, Raskin, and new music masters Pauline Oliveros, Waddada Leo Smith and John Zorn.


---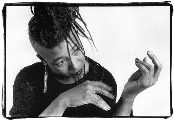 Pamela Z is a San Francisco-based composer/performer and audio artist who works primarily with voice, live electronic processing, and sampling technology. She creates solo works combining operatic bel canto and experimental extended vocal techniques with found percussion objects, spoken word, "MAX MSP" on a PowerBook, and sampled concrête sounds triggered with a MIDI controller called The BodySynth™ which allows her to manipulate sound with physical gestures. Her performances range in scale from small concerts in galleries to large-scale multi-media works in proscenium halls and flexible black-box venues.

Pamela Z has toured extensively throughout the United States, Europe, and Japan. She has performed in numerous festivals including Bang On A Can at Lincoln Center in New York, the Interlink Festival in Japan, Other Minds in San Francisco, and Pina Bausch Tanztheater's 25 Jahre Fest in Wuppertal, Germany. She has composed, recorded and performed original scores for choreographers and for film and video artists, and has done vocal work for other composers (including Charles Amirkhanian, and Henry Brant). Her large-scale, multi-media performance works, Parts of Speech and Gaijin, have been presented at Theater Artaud in San Francisco, and her audio works have been included in exhibitions at the Whitney Museum of American Art in New York and the Erzbischöfliches Diözesanmuseum in Cologne.



---




John Schott - Guitar
Scott Amendola - Drums
Ben Goldberg - Clarinet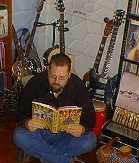 John Schott is well-known as a guitarist and composer working in the boundaries between jazz and new music. His 14 CDs include Shuffle Play (New World), In These Great Times (Tzadik), and, with TJ Kirk, If Four Was One, which was nominated for a Grammy Award in 1996. Current projects include performing internationally with the Paul Dresher Ensemble, a Meet the Composer sponsored commission from the Rova Saxophone Quartet, and a solo guitar CD to be released winter 2002.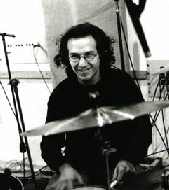 Being born in New Jersey, USA could only lead to one thing for drummer Scott Amendola-- moving. After graduating from Berklee College of Music in 1991, Scott landed in San Francisco in 1992, where he met guitarist Charlie Hunter, with whom he joined forces along with Will Bernard and John Schott to form the innovative band TJ Kirk (Warner Bros.). A year and a half later Scott joined Charlie's own band, with whom he has recorded and toured extensively. Scott can be heard on the critically-acclaimed TJ Kirk's eponymous debut and on their Grammy-nominated second release "If Four Was One" (Warner Bros.), as well as on Charlie Hunter's "Return of the Candy Man," "Natty Dread," and "Ready...Set...Shango!" (Blue Note) and also "The Oranj Symphonette plays Mancini" (Gramavision/Ryko).





Ben Goldberg grew up in Denver, Colorado. He received his undergraduate music degree from the University of California, Santa Cruz and a Master of Arts in Composition from Mills College. He was a pupil of the eminent clarinetist Rosario Mazzeo, and studied with Steve Lacy and Joe Lovano.



---
Sunday, May 12 2002 2:30 PM
SF Alt Music Festival
21 Grand
449 B 23rd St.
Oakland CA 94612-3727
4 blocks from the 19th Street Bart Station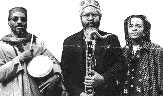 what's obvious about the playing of detroit born, oakland resident Oluyemi Thomas, is the influence of eric dolphy and albert ayler and the mid-western collectives such as the a.ac.m. and b.a.g. as well as the Spiritual content (he is an active member of the bahai faith, an important factor in his music.). what is not so obvious is influence of of the modern european saxophone masters such as evan parker, wolfgang fuchs and american born steve lacy, as well as contemporary classical composers.

thankfully, he is being heard by more international ears due to a monumental duo recording with bass player alan silva, on ermite records and a crystal clear recording of the east coast version of positive knowledge (his working unit), featuring wilbur morris on double bass, michael wimberly on drums and Ijeoma Thomas on poetic voice. he is a master musician, iconoclast, and virtuoso, all
in the truest sense!


---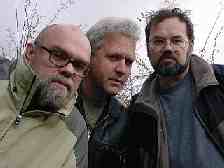 FUZZYBUNNY is an electronic improvisation ensemble. Members are

Tim Perkis
Chris Brown
Scot Gresham-Lancaster

All three of them were members of The Hub, the legendary computer network band. They've also done other impressive things; look at their websites for details.

FUZZYBUNNY is their latest project, which consists of high energy, dense live improvisation and composition, using an assortment of homebuilt electronic and software-based instruments. FUZZYBUNNY mixes classical and raunchy electronic sounds with fractured pop music artifacts.


---



Ernesto Diaz-Infante - prepared guitar/violin/small percussion
Karen Stackpole - Percussion
Bob Marsh - cello/violin/voice/other instruments
Scott R. Looney - laptop computer/interactive electronics
Jim Ryan - flutes/kalimba/alto saxophone/small percussion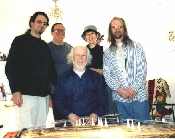 In the Spirit of Bay Area artistic experimentation and exploration, The Left Coast Improv Group (TLCIG) has crystalized from divergent musical and geographical backgrounds to form a unit of unprecedented talent. It's members are products of deep dedication, long study (both in and outside of academia), and many years of performance experience.

The emphasis of the group's approach is on relaxation, freedom, and listening, rather than individual virtuosity which, nevertheless, underlies the ensemble as an unfailing support for its cohesive expressiveness.

"TLCIG creates boldly cut, yet delightfully subtle, gems of spontaneous musical composition."
-- Saftig Himlichbaden: UberKritik von Outgrabe


---
Sunday, May 12 2002 7:30 PM
SF Alt Music Festival
Musicians Union Hall
116 Ninth Street @ Mission St.
San Francisco CA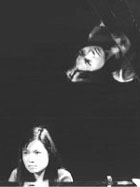 Pianist and composer SATOKO FUJII splits her time between New York City and Japan where she has an active performing and recording career. She has received wide acclaim for her music, which is a unique combination of jazz, contemporary classical music and traditional Japanese folk music. Her compositional range is astonishing; her playing has been compared to that of Cecil Taylor, Keith Jarrett, Don Pullen, Paul Bley, Marilyn Crispell and Myra Melford; her bandleading abilities to George Russell. In the past few years, she has released nine CDs as a leader, one as co-leader. Her CDs often appear in critics top 10 lists for Best CD of the Year, and she was honored by the Jazz Journalists Association's Jazz Awards 2000 with a nomination for "Composer of the Year" along with Andrew Hill, Chick Corea, Dave Douglas, Dave Holland, Wynton Marsalis and Sam Rivers. In 2001, Satoko embarked on highly successful tours of Japan and Europe and was nominated as "Best Composer" by the Jazz Journalists Association.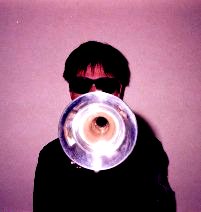 Japanese trumpeter and composer NATSUKI TAMURA has an active performing career split between his homeland and the United States. He has been widely recognized for his extremely unique and accomplished playing and has been compared with players as diverse as Lester Bowie, Miles Davis, and Freddie Hubbard, with "chops that would make Louis Armstrong jealous." --- Improvijazzation Nation. His CD How Many? earned strong praise. "Tamura is an insane trumpet player...he is in exclusive company. Lester Bowie, Leo Smith and Ornette (on trumpet) are among those who have sailed into these uncharted waters. Weird, subterranean, hilarious, wickedly creative music." --- Michael J. Williams, American Reporter. "...exudes vulnerability and spontaneity, even as it possesses a great vitality. Tamura's is a similar sensibility...Together Tamura and Fujii construct perfect little structures; their collaboration is balanced, astute, and very musical. A lovely album." --- Chris Kelsey, Cadence. "Fourteen extremely improvisatory tunes. To say that Tamura produces unusual and distorted sounds on his horn is an understatement...Their music catches you unaware, creating tension and intrigue." --- Marcela Breton, JazzTimes. "Stimulating and challenging...a quite intriguing listen. Recommended." --- Rotcod Zzaj, Improvijazzation Nation.


---



Scott Fields, guitar
George Cremaschi, bass
Garth Powell, drums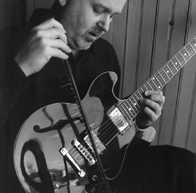 Guitarist, composer, improviser Scott Fields has been performing and recording around the globe over the last three decades. A native of Chicago, his earliest improvisations were influenced by the AACM. Fields has been pretty well obsessed with structures for improvisation for some time and has relied heavily on the serial harmonic system developed by composer Stephen Dembski.

Although as a leader he performs with a number of line-ups, he calls them all The Scott Fields Ensemble, largely in homage to the Art Ensemble of Chicago. He has on occasion been commissioned to write music. His most recent, a piece for contrabass and percussion for the Wisconsin Alliance of Composers, was premiered April 7, 2000 in Madison where he now resides.

"When he does solo, Fields is inventive and accomplished and his instrument enjoys a wonderful sense of depth in the recording. Most of all, the compositions fit the group--Fields is a thoughtful and probing composer, again often bring to mind the late Eric Dolphy in his choice of wide intervals and corduroy rhythms."
- Carl Baugher, Cadence Magazine

"Fields' music will appeal to those who feel--as this critic does--that Eric Dolphy's 'Out to Lunch' was one of the seminal recordings of the '60s. That disc also sounds like a textbook for Fields and his quintet. Running with Scissors made me want to stick a microscope to my ear to catch all the nuances played by Fields and his group."
- Steve Goldstein, Midwest Jazz Magazine


---



Gino Robair, percussion
Myles Boisen, guitar, bass
Dave Barrett, saxophones



Splatter was formed after saxophonist Dave Barrett (then a member of Club Foot Orchestra) saw a 1987 performance of John Zorn's Cobra Ensemble that included Myles and percussionist Gino Robair. Years of collective experience with the likes of Anthony Braxton, ROVA Saxophone Quartet, Snakefinger, Fred Frith, and Dead Kennedys gave the three exceptional skill with experimentation and improvisation. Rather than being slaves to song structure, they play with it. Gino calls structure "our main material, like sonic playdough... as if the playdough just sort of appears as we play." Myles says, "We don't get lost, but we also don't know where we're going." A Cambodian saying quoted on their first album Splatter Trio puts it well: "When musicians play together each goes his own way but they meet from time to time."

"This is West Coast avant-garde - a little world music, some free improv, even a bit of rock and roll...it reminds one a lot of that downtown NYC thing, but with more coherence." --Option Magazine

---



Adam Lane - Bass
Jeff Chan - Saxophones
Aaron Bennett - Saxophones
John Finkbeiner - Guitar
Vijay Anderson - Drums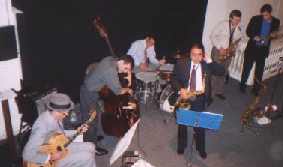 Since his graduation from the California Institute of The Arts in 1996, Adam Lane has become recognized as one of the most important creative musicians of the thriving Bay Area New Music Scene. His own compositions have been recognized by critics world wide as "innovative" and "forward thinking," and he has contributed as a sideman to important new recordings by artist such as John Tchicai and Tom Waits. A recent article in the July issue of Jazziz magazine placed Lane alongside only three other musicians (the others in their 40's or 50's) as an example of the most outstanding work being done in the "World class creative music scene [of San Francisco]."

The Full Throttle Orchestra is Cadence recording artist Adam Lane's newest project. It is a powerful and dynamic group that has influences ranging from Charles Mingus to Wadada Leo Smith to Japanese punk band Melt Banana.


---
Monday, May 13 2002 8:00 PM
SF Alt Music Festival
1502 8th Street Performance Space
1502 8th Street, Oakland
Near West Oakland Bart Station

Free Improv Workshop Ensemble

A concert will be presented by Wolfgang Fuchs and the participants of the Wolfgang Fuchs Large Group Free Improvisation Workshop.

Balance Point Acoustics Presents
Wolfgang Fuchs Workshop Orchestra:
(from Berlin) wolfgang fuchs - director, reeds
phillip greenlief - saxopones
alan anzalone - saxophones
Jacob Lindsay - clarinets
per boland - trumpet
katrin schenk - chapman stick
Ernesto Diaz-Infante - guitar
Damon Smith - cello
dave moss - double bass
alan brightbill - laptop
Jerome Bryerton - percussion

---