This month's focus is movies about jazz, overlapping in the first two weeks with the Black Harvest festival and coinciding at the end of the month with the Chicago Jazz Festival. We shed light on four giants of jazz -- Denis Charles, Ornette Coleman, John Coltrane, and Miles Davis -- and finish up with an encore engagement of the classic festival film JAZZ ON A SUMMER'S DAY. -- Jim Dempsey
---
Chicago Premiere!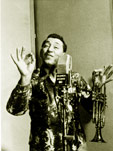 LOUIS PRIMA: THE WILDEST
1999, Don McGlynn, Denmark, 90 min. Louis Prima was the ultimate showman, as well as a stellar jazz trumpeter. He guided his career through fits of R&B, early rock 'n' roll, comedy, and Dixieland, and he had a great run with singer-wife Keely Smith, whose stone-faced persona gave Buster Keaton a run for his money. Through priceless performance footage, THE WILDEST explores Prima's different worlds: New Orleans in the 1910s and 1920s, the posh night life of New York City and Hollywood in the 1930s, the neon-soaked Vegas of the 1950s and 1960s. Beta SP video. (JD)
Sunday, July 28, 6:00 pm;
Thursday, August 1, 8:00 pm
Back to top
---
DENIS CHARLES: AN INTERRUPTED CONVERSATION
2001, Veronique N. Doumbe, USA, 76 min. With Frank Lowe, Archie Shepp
If it's true that jazz music represents being triumphant in the face of adversity, then Denis Charles is the perfect jazz musician. Born in the Caribbean and sent to New York at a young age, Denis Charles sustained a diverse and nomadic career. In his early days, he anchored legends like Cecil Taylor, Jimmy Giuffre, Steve Lacy, and Don Cherry. His later years, even while homeless, were spent with young creative musicians (such as Susie Ibarra, seen performing a marvelous duet with Charles) who admired his gentle spirit and fierce devotion to his craft. DENIS CHARLES perfectly captures the humor and sweetness of this fearless musician, who literally played for his life. Beta SP video. (JD)
Sunday, August 4, 5:30 pm;
Thursday, August 8, 8:15pm
Back to top
---
ORNETTE COLEMAN: MADE IN AMERICA
1985, Shirley Clarke, USA, 90 min.
Directed by independent pioneer Shirley Clarke (THE CONNECTION), this film's jazzlike structure -- combining old and new footage, intercut dramatic sequences, and electronically processed video interludes -- is as complex and exciting as Coleman himself. ORNETTE COLEMAN deftly honors this great musician without necessarily understanding him. The film follows Ornette through different stages of his career, as he performs "Skies of America" in Fort Worth, in Morocco in 1973, in Berkeley in 1969, and on Italian television in 1980. This rich and poetic portrait includes commentary from the likes of William Burroughs and Buckminster Fuller. 35mm. (JD)
Sunday, August 11, 5:15 pm;
Thursday, August 15, 8:00 pm
Back to top
---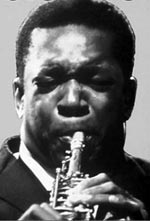 THE WORLD ACCORDING TO JOHN COLTRANE
1992, Robert Palmer and Toby Byron, USA, 61 min. With Rasheid Ali, Wayne Shorter
THE WORLD ACCORDING TO JOHN COLTRANE deftly covers Coltrane's personal history, but the joy of the film lies in its abundance of archival performance footage that gives a true sense of Coltrane's gift. From his early days with Miles Davis and Thelonious Monk to his later days exploring Asian, African, and Middle Eastern traditions, John Coltrane's insatiable curiosity not only seemed to fuel his creativity but gave rise to a heroic musician who, in a relatively short life, influenced jazz, classical, rock, pop, and funk. Beta SP video. (JD)
Sunday, August 18, 5:00 pm;
Thursday, August 22, 8:15 pm
Back to top
---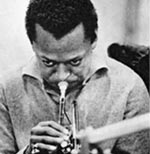 THE MILES DAVIS STORY
2001, Mike Dibb, Britain, 124 min.
A seminal figure of the 20th century, not only in jazz, but in culture at large, Miles Davis cultivated his music with a rare passion and focus, seemingly able to harvest new ideas with the changing seasons. From his East St. Louis roots to his achievement of true mythical status, THE MILES DAVIS STORY delivers numerous interviews and priceless clips that reveal many sides to Miles: poet, drug addict, mentor, criminal, but, most of all, a true teacher with the ability to influence young people continually as he grew older. Beta SP video. (JD)
Sunday, August 25, 6:15 pm;
Thursday, August 29, 8:15 pm
Back to top
---
JAZZ ON A SUMMER'S DAY
1960, Bert Stern, USA, 85 min.
Training his cameras on the 1958 Newport Jazz Festival, noted photographer Bert Stern merges musicians, music, audience, and images into a joyful celebration. The list of participants includes Thelonious Monk, Chuck Berry, Big Maybelle, Dinah Washington, Gerry Mulligan, Chico Hamilton, Jimmy Giuffre, and Eric Dolphy. Among the highlights are Louis Armstrong and Jack Teagarden's celebrated "Rocking Chair" duet and Mahalia Jackson's rousing gospel climax. 35mm. (MR)
Sunday, September 1, 6:00 pm;
Tuesday, September 3, 8:15 pm;
Thursday, September 5, 6:30 pm
Back to top